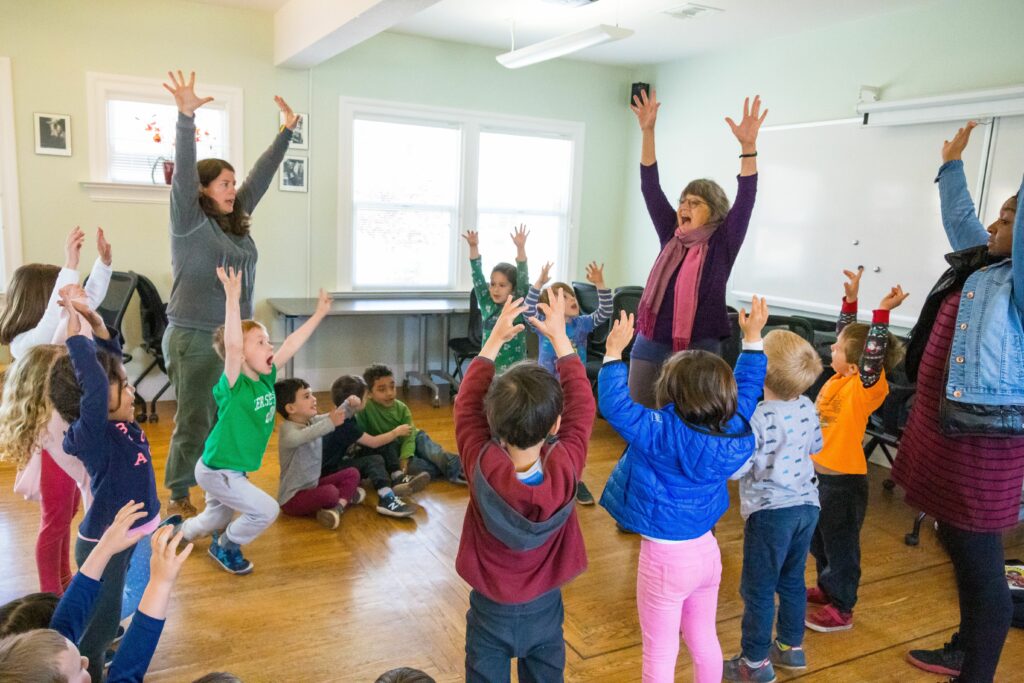 Shows for Children & Families
Songs & Music Games from Around the World
A PARTICIPATORY CONCERT FOR PRESCHOOL AND PRIMARY GRADE CHILDREN AND FAMILIES
Bonnie presents interactive concerts for children and families in
libraries, schools, and community centers.  For over thirty years, she
has developed a dynamic repertoire which feeds Songs & Music Games
from Around the World, her ever-changing show for pre-school and primary grade children
Designed to maximize children's participation, her shows feature
sing-along, clap along, move-along activities with folk songs from many
countries and cultures including Jamaica, Japan, Nigeria, Nicaragua and
the United States. 
In addition to a wealth of folk songs, Bonnie's own original
materials lend a distinctive vitality to her presentations.  She
encourages children to sing, dance and fingerplay their way into the
joys of music.  Kids and families cooperate and collaborate in singing
games, call and response chants, story-songs, and on-the-spot rhythm
bands.
Accompanying herself on guitar, ukulele, keyboards, and percussion,
Bonnie sings with irresistible enthusiasm.  With a repertoire rich in
cultural diversity, she entertains while nurturing the seeds of
children's self esteem.
This program can also be adapted for babies and toddlers, as well as for family concerts with children of all ages.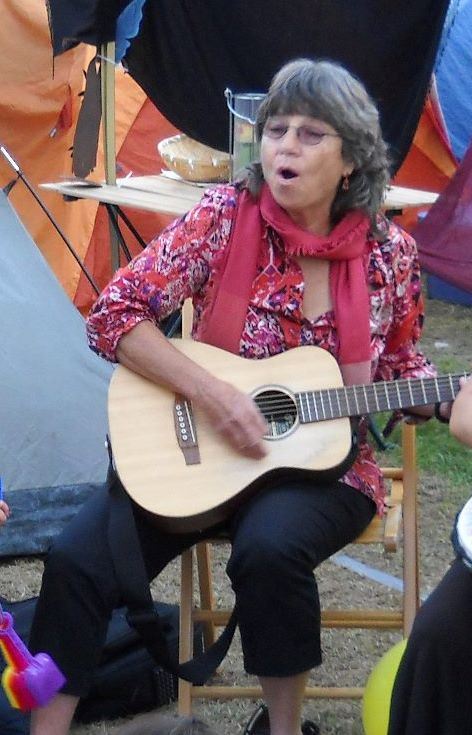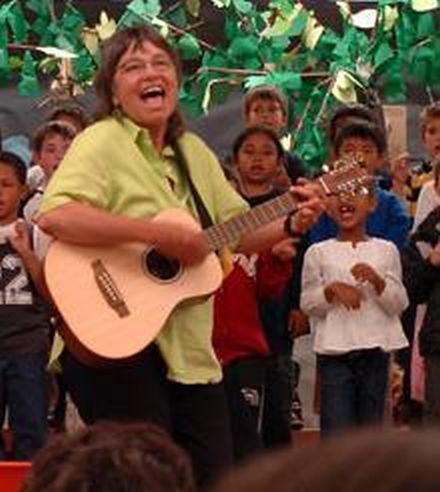 Folk Roots of Popular Song
AN INTERACTIVE MUSICAL PROGRAM FOR CHILDREN IN GRADES 4-6
Drawing on folk materials from the Caribbean and Mexico, the British Isles, West Africa, and many regions of the United States, Bonnie presents a program for children in grades 4 through 6.  Playing drums on th Panamanian "Al Tambor", singing along with the penney whistle on an Irish tune, and playing a kazoo interlude on "Love Potion Number Nine", youngsters join Bonnie on the bridge that connects traditional and contemporary song.
SPECIAL PROGRAMS FOR SPECIAL OCCASIONS

Bonnie designs programs reflecting curriculum and seasonal themes.  She has developed shows to coordinate with Women's History Month, Ocean's Studies, and Gardens to Garbage—a down-to-earth ecology program. Past themed programs include:
Spiders, Bats, & Black Cats: Sing-Along Songs for a Not-Very-Scary Halloween
A Harvest of Song: Sing-along, Move-along, Play-along Music to Celebrate Autumn
Peace, Light, & Chocolate: Winter Seasonal Sing-Along songs from Many Traditions
Great Grandmas & Daring Daughters: A Celebration of Women's History in Songs & Music Games
Labor Day Sing-along: Playful songs about hard work
Shows for Past Summer Reading Programs include:
Hop Aboard A Song! a sing-along concert for Reading Takes You Everywhere!
Hums, Strums, & Worldwide Drums: get creative with music in your library
Critter Song Sing-Along: a sing-along, move-along, play-along concert of animal songs from around the world
Riddles & Rhythms: musical guessing games, riddle songs, and mysterious melodies from around the world
APPEARANCES
Bonnie has delighted audiences at hundreds of libraries and schools throughout the West Coast.
Special event appearances include:
Vancouver Folk Festival, Vancouver B.C.
Bumbershoot Festival, Seattle WA
Stern Grove Festival, San Francisco, CA
Mariposa Storytelling Festival, Mariposa, CA
Bay Area Storytelling Festival, San Pablo, CA
Marcia Berman Day of Music for Young Children, Los Angeles, CA
Contact bonnie@bonnielockhart.com for booking and fee information.  Check out her concert calendar for upcoming shows.